L&L Capital Partners, LLC
leverages its over 100 years of experience in helping companies and entrepreneurs succeed. L&L Capital is an eclectic investor focused on a variety of well-managed companies with superior growth potential.
L&L Capital participates in the financing and management of a broad range of geographically diverse companies and industries, from the startup through later stages. It is this diversity that has allowed L&L Capital to maintain such a high return value on its investments.
Sponsored Investments:
| | |
| --- | --- |
| Name | Industry |
| Accent Color Sciences | Imaging - Technology |
| Alpha Financial Technology | Financial Services - Technology |
| American OBGYN | Healthcare Services |
| American Pet Resorts | Hospitality - Consumer Pets |
| Block Buying Group | Healthcare - Pdts And Svs |
| Cirrata, Inc. | Computer Network Solutions |
| Concord Industries | Marketing - Consumer |
| EAM | Financial Services - Technology |
| eTelemetry | IT / Network Security |
| First Service Networks | Business Services - Technology |
| GETM | Manufacturing - Outsourcing |
| Image Logistics | Bus. Service / Consumer Retail |
| Infinite Markets | Software - Technology |
| Insurance Recovery Group | Business Service - Financial |
| Iris Wireless | Telecommunications |
| Juniper Content Corporation | Media |
| Lifeflo | Water Purification - Technology |
| Medical Asset Fund I | Financial Services - Healthcare |
| Medical Asset Fund II | Financial Services - Healthcare |
| MetaCorp | Business Service - Consulting |
| MxEnergy | Marketing - Consumer |
| Nat Nast | Apparel - Consumer |
| Office Power | Business Service - Financial |
| Orbcomm | Data Communications |
| Pantresse | Health And Beauty Aids |
| People First | Financing - Technology/Financial |
| Pioneer Medical System | Healthcare - Consumer Services |
| Skyfish | Software - Technology |
| Therlmmune | Health Services - Business |
| Trust Company of CT | Financial - Trust Services |
| Veto Pro Pac | Professional Tool Bags |
| Visiocom USA | Business Service - Training |
| World Direct Floral Supply | Business Service |
L&L Capital's Investment Strategy: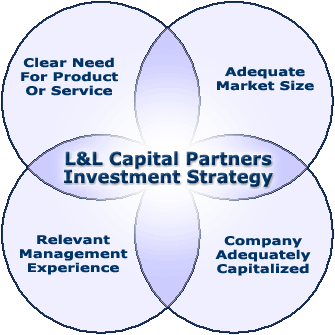 Back To Top